Our interior color consultation services are perfect for your next room makeover.
Oftentimes, selecting colors seems like the biggest part of any decorating project. Picking the colors for a room's walls, ceiling and trim can seem overwhelming—but it doesn't have to be. SBK Interiors offers interior color consultation services to select the perfect color scheme for your space.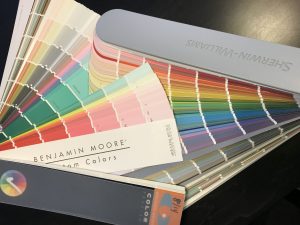 Selecting Colors
WHERE TO BEGIN
People often start selecting colors by standing in the hardware store pulling small sample chips off a rack under harsh lighting, or by combing the internet looking at pictures of other people's rooms. While those methods may be an okay start, at SBK Interiors, we believe the best place to search for color FOR your space is IN your space. So, our process starts with an initial consultation in your home. We work with both the Benjamin Moore and Sherwin-Williams collections—and begin by bringing the color options to you.
Creating A Plan
LET'S WORK TOGETHER
During the initial consultation, we'll explore color options for your space. We'll ask questions to better determine the look you are hoping to achieve. We'll also take into account the lighting (both natural and artificial) in the space, as well as the room's décor. We'll go away from the initial consultation with ideas for a family of colors for your space.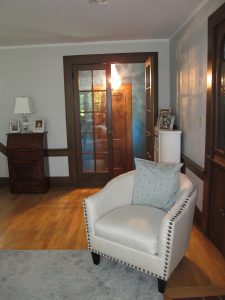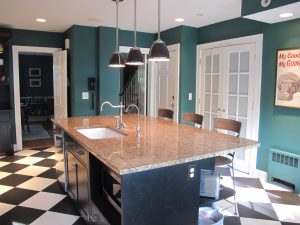 Bringing It All Together
YOUR DREAM SPACE
We understand that changing color in a space can be a big commitment—so we want you to have the opportunity to see a few options. After your initial color consultation, SBK Interiors will put together recommended color schemes for your space. We will provide you with larger color chips for you to view in your home.
During the selection meeting, SBK Interiors will review the color options with you. The large color chips are yours to keep, so you may choose to view them in your space and consider the options for a few days before making your final decision.
In addition to color selection, SBK Interiors will advise on paint finishes and color selections for room décor. We can also provide referrals to professional painting services.
We Want To Hear From You!
If you're in the mood for a makeover and you need help when it comes to color selection, please contact me today! I would love to get to know you and learn more about your makeover dreams. We will craft a custom plan that suits all of your wants and needs for your home. Find out what we can do for you with a no-obligation consultation today.